3D printing is a fascinating subject all on its own.  However, with the ability now to print metal parts instead of just plastic parts is truly awe-inspiring.  This opens new doors to increase time to market, develop more complex and highly custom parts, reduce tooling expense, create only on demand when and where needed and reducing global transportation costs and emissions.
It is so exciting to see new field applications for 3D printed parts surfacing in the world every day.  From critical medical applications to fun fashion angles, I am truly fascinated with how fast the technology is progressing and like to highlight some of the exciting and fun achievements.
Medical Application Examples
A complex vertebra has been produced in titanium by 3D printing.  The titanium is printed so that the vertebra is porous therefore allowing the bone to fuse into the 3D printed part.  Printing vertebra allows for an individual customization to match the patient's anatomy.  Read more at an article published on CBS News website.
Doctors have recently repaired a damaged skull by using a titanium mesh they printed in 3D.  Printing the mesh allowed the part to be customized to match the man's skull.  Read more at an article published on NY Daily News website.
Jaw bone replacements are now being 3D printed with titanium.  By printing the jaw, they can recreate the patients jaw in a custom fashion and in a significantly faster time frame.  Read more at an article published on BBC news website.
Automotive
Super high performance automobile manufacturer Koenigsegg is now using a 3D titanium printed variable turbo on some of its car models.  Read more at an article published on Gizmodo's website.
Fitness
Renishaw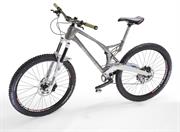 is now 3D printing bicycle frames out of titanium.  Printing bicycle frames out of titanium allows for greater design flexibility and a much more lighter and stronger structure.  Read more at an article published on Renishaw's website.
Fashion
High-fashion company Hoet Couture is now printing designer eyewear out of titanium material.  The new titanium eyewear allows them for custom, lightweight, complex designs that are also eco friendly.  Read more at an article published on Hoet's website.
Even furniture is being produced with 3D titanium printing.  This gorgeous and complex Spider Table is produced by UK designer Daneil Widri.
Custom titanium jewelry now can be printed in 3D.  I found this company by the name of Jweel offers a service where you custom design your own unique jewelry on your computer.  Once your personal jewelery design is complete, you can have them 3D print with titanium material.
Aerospace
A company by the name Made In Space has created a 3D printer called the Zero-G printer to be used in space.  This is a fascinating new application for 3D printing.  Now structures can be printed in space instead of manufacturing structures on earth and then launching them into space.  Scientist are even now exploring if they can use existing materials in space for 3D printing.

Airbus is 3D printing titanium parts for their newest A350-XWB passenger jets.  This new technology allows Airbus to rapidly print complex geometric shapes.  Read more at an article published on VOA News website.
Northwestern Polytechnical University in China have 3D printed a 15 foot long solid titanium wing section.  The wing section is designed for the Comac C919 passeger plane and is claimed to meet aerospace durability and strength requirements.  Read more at an article published on 3dprintboard.com's website.
These are just a few of the many fascinating items that are now being printed in titanium.  We are in the exciting early stages of the technology and who know how far and how quickly it will progress.  I can't wait to see what is produced next.  If you see any exciting new products now being printed in titanium, please contact us so we can share on this web page.